We went through life with a smile. Now I am smiling through tears, alone. Yesterday was the memorial service. One week ago, I didn't know what that meant.
Yesterday I was sitting next to a coffin with the love of my life and our daughter in it.
Today I must share their story.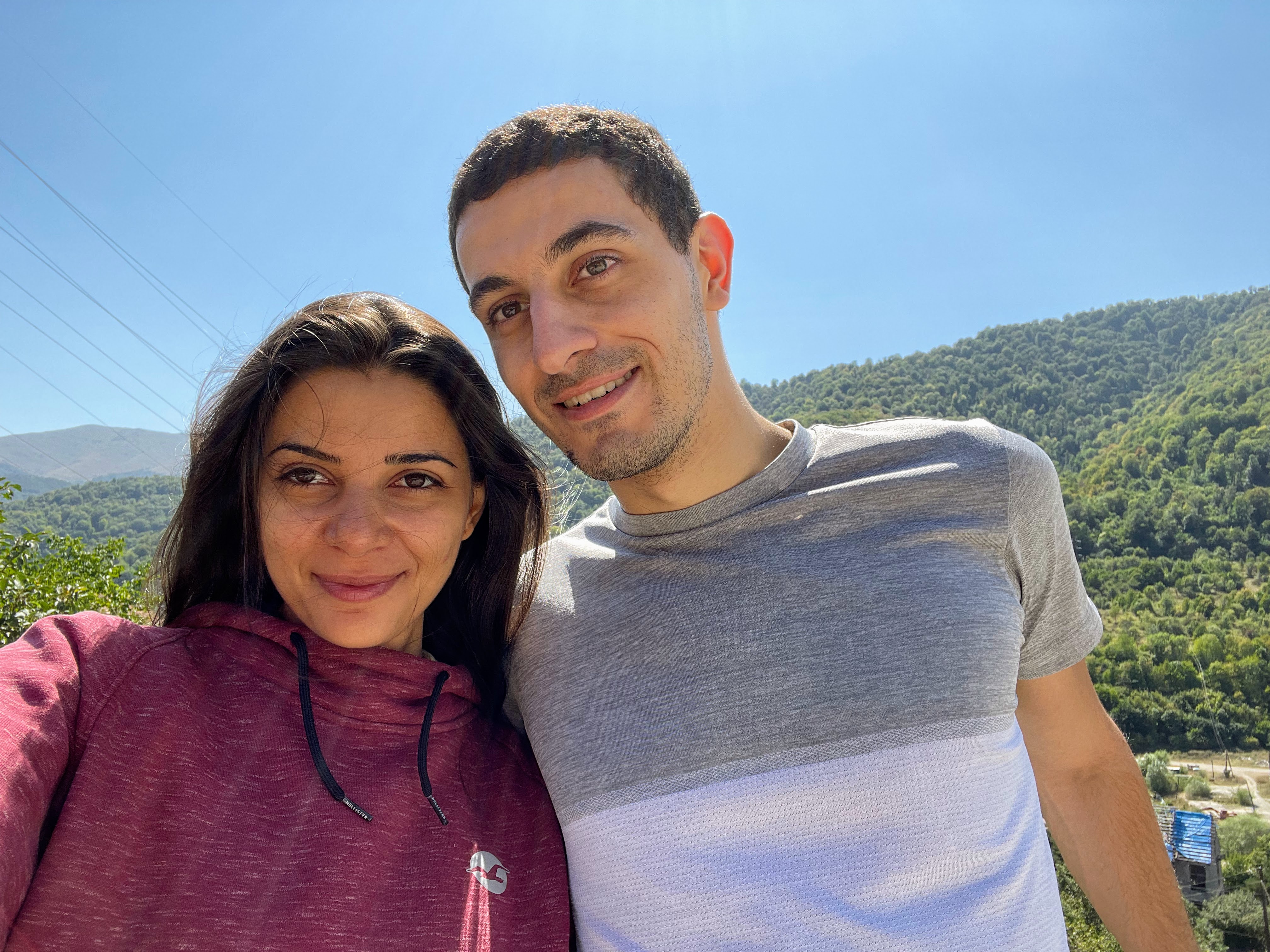 ---
Sona
There was a girl no one knew. Some have seen her, and some talked to her. Some were friends, and some were relatives, but she was so much more than anyone could have imagined. Her name was Sona. She had a story. A short, tragic story full of love and pain.
She was born in Armenia to a kind family of doctors. She had a little sister, whom she loved endlessly. They were like two drops of water, indistinguishable to the eye but very different inside. Amazing how being the older sibling shapes you. She would care about another person from age two, guiding someone through life. She would run forward, make all the mistakes, and steer people behind in the right direction. And if something was wrong, she would take responsibility. But no one would take the blame for her.
Her role model was her grandma. A soft and loving old lady. Ex history teacher. They would grow up walking around the "Victory" park and reading together. And now my Sona would bring the books to granny, filling her already huge library with Japanese books on how to raise kids.
Sona would come tired after work, call granny, saying "allo, Tatulya!" ("hello, Granny") and every time granny had at least a little energy for reading, walking or chatting, Sona would rush to her home. Sometimes, during lunch breaks. She cared for everyone, for young and for old.
Her parents worked hard, trying to give both kids the future they deserved. A future full of possibilities. So they migrated to Russia at the school age. My Sona would never agree with that decision. She didn't stay in Moscow, and repatriated to Yerevan for higher education. My dear girl.
She would spend more time with granny again. She would study and teach simultaneously. Not just "teaching". She was teaching kids with disabilities. I am shivering just imagining how hard it was. She was there for everyone, even those who couldn't say her name or could never see her. She mentioned it just once, three months into our relationship, when we passed by that school… She didn't do it for credit.
She would study Economics in the "Black Building" of YSU. The university was a joke. So she pivoted. Applied to Cambridge. Got accepted, but she liked a guy. A guy who would change her life, and it wasn't me. A guy without commitment, a lucky bastard, wouldn't appreciate her for who she was. A person who pulled her back instead of pushing forward. So she didn't go. Time passed, and that attraction would go on and off, so she applied again to Germany. She got accepted. Of course, she did. She was brilliant. That's how she started her Master's Thesis on Renewable Energy Sources. Getting internships and positions in Bundestag, she would see from the inside how filthy gerontocrats would party instead of helping people. She was too pure and too sharp for them.
So she chose a new home for herself. Denmark. A company called Vestas. The biggest producer of wind turbines in the world. The right place where she would make an impact. Not just in the industry, but in people! The managers would compete to give her promotions sooner. Some would say they just loved going to lunches with Sona because she was eating slowly. That would give them an excuse to avoid work a bit longer, but it was an excuse to spend more time with her. I knew it, she knew it, everyone knew it. My sunshine was unique.
Promotion after promotion, her job would get more demanding. She would travel across Europe alone on cars, trains, buses, airplanes, and ships. All to make the world greener. She chose a purpose in life and believed in it until the end. She convinced me to separate the garbage that would still mix at the factory later. I don't know how she pulled that off.
Her travel map was broad, but it had a few extraordinary places. Her home away from home - "Inglease". She is her favorite person in Denmark. An old softy who would rescue and adopt kids from all over the world and sometimes rent out a room in her home to Sona. Sona would pay the rent long after she moved out, just to support her. First floor. Very Dutch interior. I was there once. The three of us were sitting together. She prepared the dinner the way Sona loved it. Blessed by the moment and in the spirit of never-ending love. She had to come this summer to play with our daughter. Everyone had to come. For childbirth, not for their funeral.
The boy would still reappear in her life. Causing more and more pain every time. The pain she hadn't discussed with anyone but me years after. Until then, she carried it in her massive heart. She would learn to meditate. She would learn to love herself again. Her only vacation would always be just a couple of weeks meditating in the mountains. Alone with nature. She had a favorite Buddhist temple in India. The place where she would recover. The place she had to show me.
Then, she co-founded "Zevit". Her second true family. She made impossible things possible. Convinced a VP of a Dutch giant to start a company in Armenia. It was a story on its own. I will never tell it as good as she did. A company that would service renewable plants all around Europe. They grew rapidly, but the objective was not just the quantity; instead - the quality. She found great people, gave them a purpose, and shared her culture. Her calendar was always overbooked, but she always did more than was intended. Every CEO can fly to an exhibition in a big European venue. How many would drive to a demilitarized zone to find talented kids and design projects for them to learn? Projects that would require technical skills like 3D printing and soft skills like planning and negotiations. She would curate those projects herself and would fund some of them personally. She never had the resources I have but did so much more. She just did. My smarty.
Before her next relocation to Armenia, a war happened. It was April 2016. Our friend told me how he first met her. His phone rang, and a gentle voice said:
Hello, it's Sona. How can I help?
My love. She joined the "Support our Heroes" non-profit. Not just as a donor but as a member. One more work after work. Organizing emails and finances for all of those who support our heroes. She would still do it even in the first months of pregnancy.
How I became the luckiest man alive?
There was an event on our campus. About science, technology and journalism. Topics we both enjoyed.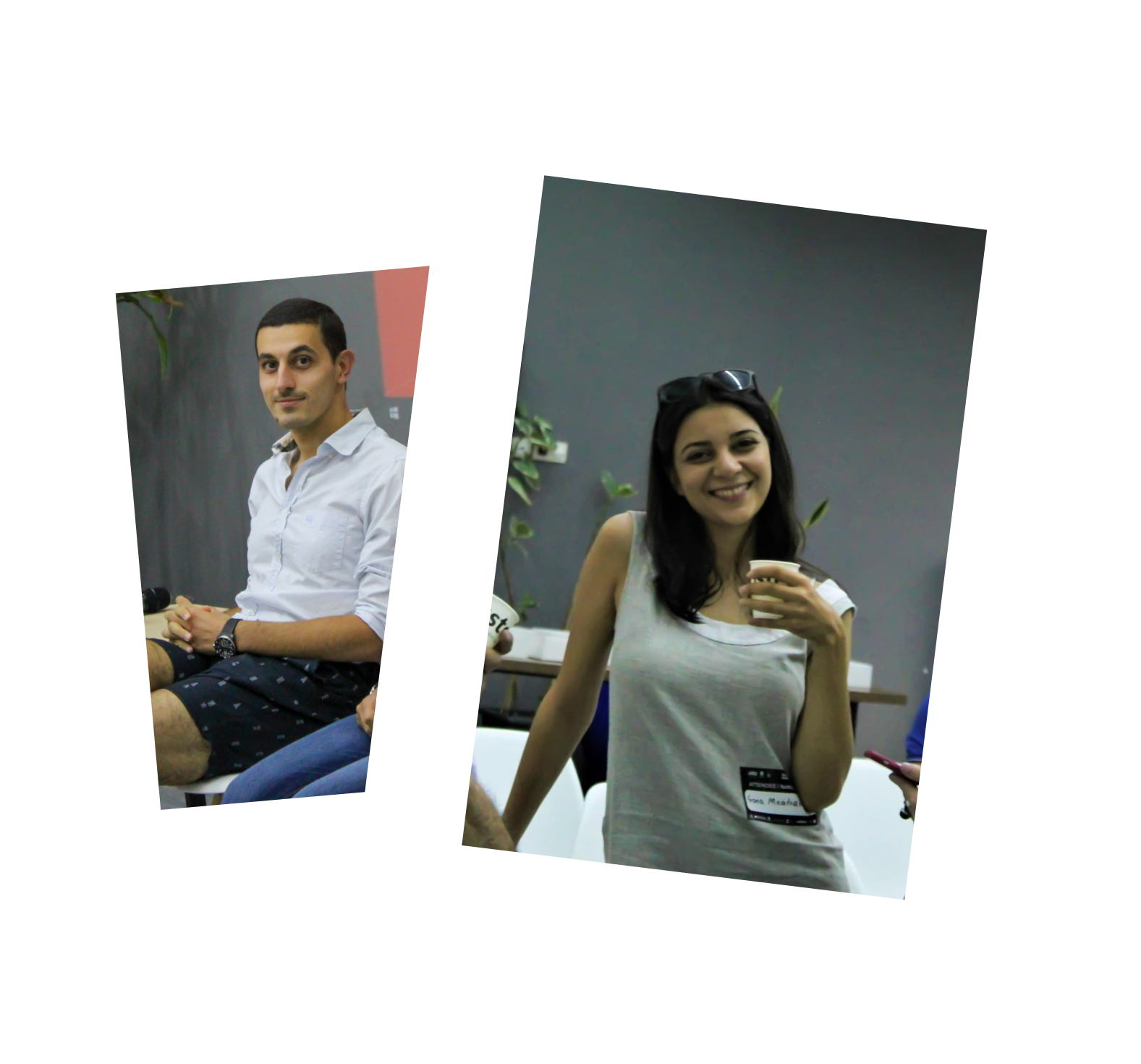 People gathered the usual tech crowd of Yerevan. Except for one girl I haven't seen before. I looked at her once, twice, … then she approached me:
S: Do I know you?
A: Not sure. I don't know you.
She thought I was shy, not after the last sentence. She heard it condescendingly. Not intended.
H: How so? You don't know each other?! I should have connected you a long time ago.
The H is our shared friend. The panel discussion begins. I am on stage. She is the crowd. I am silent, looking at her. Once the event ends, she invites a few of us for dinner. Some attendees and some speakers. She always did that.
We go to one of her favorite restaurants. She is wearing a linen summer dress. The evening summer breeze is stroking her hair. I sit next to her. Peacocking. As silent as the previous hour, equally active I was in the next. Trying to grab her attention. I knew nothing about her, only that she was special.
I ask stupid, obviously targeted questions like "how old are you?" at the table with several other people around. How clumsy. I learn just enough to know that I must see this girl again. She drives everyone home. I try to find causes for her to drop me last. I failed short. I was the second to last passenger to leave the car. No kiss, no chit-chat, just a LinkedIn profile. She was a busy girl.
2am. I received a notification on LinkedIn.
S: I couldn't sleep trying to remember where I had seen you…
Aha! She thought about me. I ask her out again and again. Lame excuses. I propose that we meet at the park.
The most excellent park next to us was the "Lovers Park". I couldn't propose such a name. It's too direct. I try to describe it using the address, the neighboring streets, etc. She obviously understands it. Long story short, we met on Sunday evening on the Cascade stairs.
I brought vegan snacks the way she liked them. I got a tall red rose. I chose a wine that I have previously tried in the Argentinian vineyards. I wanted to make that evening special for her, even before knowing how much she deserved that. We just sat on the grass and talked. For hours. I wanted her to tell me everything. Every sentence she said resonated. We lived on the same frequency. Almost.
Her office was just 5 mins away from mine.
My entire team and I have lunches where they do, but we come after 2pm, and they leave before 1pm.
We went to the same gym. She went early, and I went late.
We had a hundred shared friends, but we have never met since my complete relocation to Armenia in September 2020, before another war. We later realized that even our non-tech friends in random countries somehow match…
She spoke Russian, English, Armenian and German fluently, not to mention using Dutch, Swedish and other languages for work. We would start conversations in one language and continue in another. She said she was searching for teachers to help her practice French and Italian. I snapped - "I am in!".
By the time it was late, I knew she was THE ONE. THE ONE FOR ME. She was wearing red lipstick that night. I didn't dare to kiss. She went home. I went home. I couldn't sleep. As I later learned, she couldn't either. She needed me just as much as I needed her. Next morning I go to work, to our Unum HQ, but I leave early. Not 11pm, not 10pm, but closer to 6. That was the first sign for my team. Everyone suspected what was going on. I was smiling with my eyes. She changed me.
That evening, I went to a wine shop. Got the same bottle. Bought the same snacks. One more rose. Yesterday should have never ended, I thought. Not for us. She loved nuts. I went home and spent hours cleaning them up. I knew she had a lot of work, so I wanted to surprise her at her doorstep when she came would come home. I was too late.
Nuts took too long. She was home, in bed, texting me. Now I am scrolling through a gazillion of love messages to remember her reaction. She was shocked.
S: I have a hectic week. Would you like to meet again? If so, suggest a time, so I can book it in my cal.
A: Are you home?
S: When?
A: Now
S: Yes
A: Can you come down?
S: Where?
A: To the yard.
I was sitting in the parking lot, essentially, on the asphalt. Rose in my hand, bottle half empty, and I'm half confident to tell her how I feel.
She sat speechless for half an hour, and I spoke.
I told her I loved her. By the time I finished, she had realized we were still at the parking lot, essentially on the street, and she pulled me into the yard. I told her I was the dumbest person on earth for not kissing her yesterday.
And I kissed her. And I kissed her again. And so it began.
Us
That night we lay on the grass for hours. Not talking about our pasts anymore, only about our future. Shared future. We knew we should have kids together as many as possible on the second date. We were picking names. Our girls' name would have been Aria.
After her death, I found her diary. She wrote - that it was the happiest day of her life. For me too. From that day onwards, there wasn't a day we wouldn't tell each other how much love we felt.
I wanted to rebuild our country. She wanted the same. We were together. Believed and supported each other unconditionally. She knew which buildings in the city desperately needed reconstruction. She knew how to get it done. She could get it done. Every time we walked around Yerevan, she would just point her sweet little finger at a building and describe how she saw it, and I would want to work 10x harder than before to help it happen.
I remember the first time she invited me upstairs. She was nervous. I was too. She wasn't just letting me into her home. It was her pure soul, broken into pieces. The boy who left, had left her in debt, and she had to buy his share of the mortgage. It is life in its ugly financial details. Before the building construction was finished, her apartment was complete. She finished before everyone else, a lonely girl with a debt and a company on her shoulders. Many of our neighbors haven't completed heavy construction, even today, years after. That's against the regulation. She always played by the book. If she didn't like the rules, she updated the book.
She showed me how she designed the apartment. All in lite tones. Very bright and full of light. She carved her lamps from natural wood! She did it with love and showed it to everyone with pride. She tried to build a little fountain from clay for the balcony. It looked so funny. Her cousin and I kept laughing about it, with love, of course. And Sona would laugh with us.
She showed me her library, the first steps. Books in all the languages. I took the one by Werner Heisenberg, and we would talk about physics. I could talk to her about everything. Every paper I read, she would listen and understand. Maths, Physics, Biology, Computing, Business, she was interested in everything. The last thing we were practising was binary, ternary and hexadecimal arithmetic. She had to teach it to Aria. She introduced me to her family. She warned me, "my Papa" loves telling stories about me. She was right. His favorite was about how Sona organized a trip for everyone to Europe. A lonely immigrant student, she spent her last pennies to fly her parents to Europe for the first time. Parents were coming to Germany. Little did they know, the trip had to go through France, Italy and Switzerland. She prepared everything, rented a car, booked hotels, and had a path around every destination she considered worthy. What a fantastic gift. It was the summer of 2015. I was also in Cannes, walking on the same streets. She might have been just a step away. Again.
Everything was unique with her. Even going to a concert or a cafe was a quest. She wanted us to keep our relationship private, just to ourselves. Even now, it is a surprise to many. We were together. No rings, no documents, no churches or impossible promises. We were there for each other. I would enter the cafe first and check if we have any shared friends inside. Problematic in the tiny Yerevan. More so if you want the food to be locally sourced, organic, vegan, and the people around - non-smoking. The stuff that others neglected, she found important. But no matter how long every order took, how quirky it may have looked, I was always the weirdo in our couple. And she loved that.
Next week, my mother planned a visit, and I already knew how to surprise her. No one believed I would ever find someone. I connected them, and it was love at first sight. The daughter my mother never had. Her copy in more ways than one. Very Freudian, I know. Two most amazing women I have ever seen, both with complicated lives. They were both my family, sitting together and dining. With me, the luckiest man alive. I have planned the meeting ahead of time for Tuesday. But when mom heard the news, she couldn't wait to see her. So we walked from my office to hers and asked her to join us for a casual dinner. No preparation. Just us.
Until now, I described the first couple of weeks of our life. We were already planning a baby, adjusting our plans for the next years. We were together for just 8 happy months, not even 18. That's too little. Our daughter was 7. She was the most expected and loved child in the world. The roundest sweetest belly I touched. She would have been unique. Best of us. As pretty, soft and intelligent as her mom.
Sona said I am the strongest man in the world, and our daughter will be like me. I was only strong because she was with me. On one of our first dates, I prepared a non-inclusive list of a hundred things to hate in me. I was afraid she would love me, and I would cause pain to her. The purest person in the world. She didn't listen. She loved every one of my imperfections.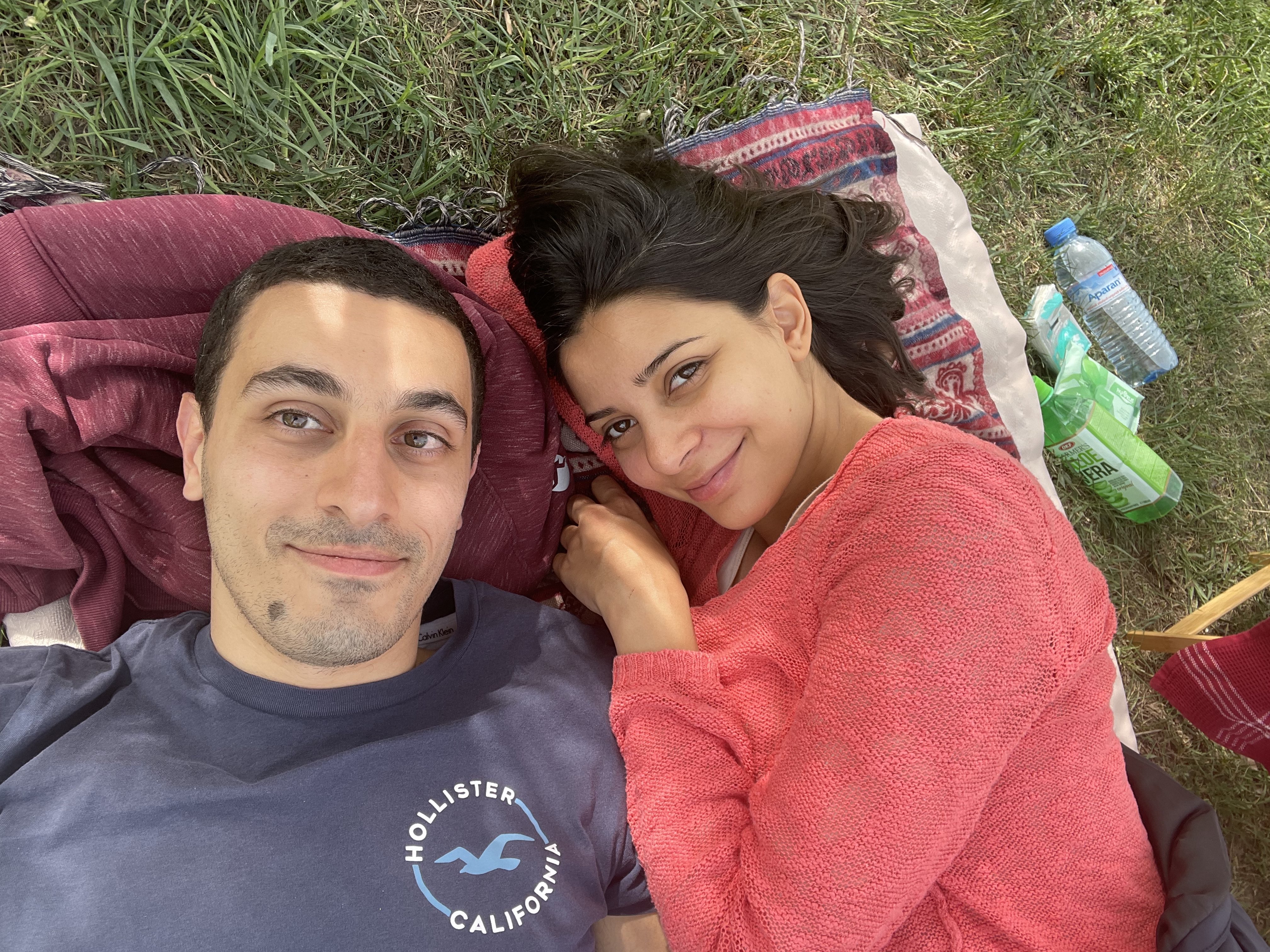 That is who she was. My love, my life, and my heart.